perma Pro MP2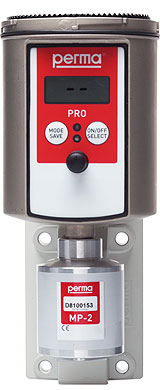 The perma Pro MP2 (Multi-Point 2) and perma Pro-C MP2 are automatic, multi-point lubrication systems which utilise a 2-point mechanical splitting system to evenly distribute grease to two points. The perma Pro MP2 and perma Pro-C MP2 are fitted with a 500cc canister of factory filled grease.
The Pro MP2 system is a stand alone, battery powered system. Meanwhile, the Pro-C MP2 is a PLC controlled system. The Pro-C (C for Control) is primarily designed for machines which stop for extended durations of time, during which time the lubrication system goes into a "waiting mode" and does not discharge again until the machine recommences operation. In addition to this feature, the system status can be monitored via a PLC-control system (eg. warning lights).
The pressure output from each outlet of the MP6 is 25 bar which allows grease lines up to 5 meters in length to be installed from each of the six outlets.
Performance Features and Benefits:
Intelligent lubrication of two points

25 bar pressure output allows the flexibility of grease lines up to 5 meters in length

Can be programmed to deliver the full volume of grease at multiple time settings up to 24 months

Simple to operate splitting device
Notes: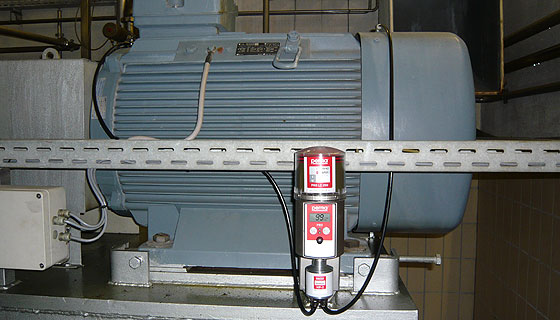 Example Installation 1 - perma PRO MP2 installed on an electric motor